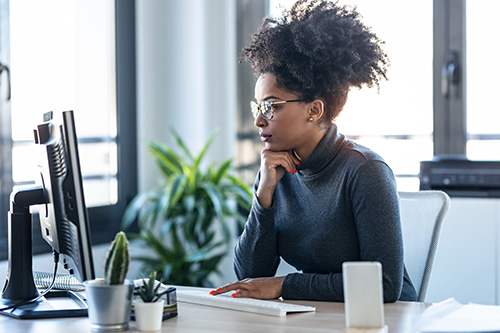 Published in The Business News on 2/9/23
A relatively common question in the IT space is, "how can I choose a new ERP for my business". That one comes up a lot and it's actually a tough question to answer. The problem is that there are many ERP options out there and there are many business types out there. How can your special business find a special software, made especially for your business?
Starting with the basics, ERP stands for Enterprise Resource Planning, and it is one of many enterprise application types. There is also MRP (Material Requirements Planning or Manufacturing Resource Planning) and CRM (Customer Relationship Management). To be fair, there are a lot more application types and acronyms than that, but let's keep to those three for now.
ERP
An ERP is primarily a financial system. Most businesses are in business to make money and an ERP is where you track the money that you made (or lost). Some ERP systems, include modules to cover the things done in an MRP or CRM. For some, this seems great because everything is in one system. Often, it's not great given the "jack of all trades" principal.
MRP
An MRP is where you track operations. Order entry, inventory, scheduling, and shipping. There are as many MRP options as there are ERP options and choosing any is a daunting task. (Holy acronyms, Batman… one more)
CRM
The CRM is a sales system. All of your customer information goes in here. Simple things like name and email can go in Outlook, but a good CRM also tracks details, like what your customers are working on, personal details, and your customer's order history. A CRM is how your salespeople come off as your client's best friend. Hey Jim, how are Sara and the kids? How is Jim Jr. enjoying the 3rd grade? Did you get that addition on the house finished? Say, last March you ordered 300 widgets. Can I pencil you in for another 300? I hope everything goes well with your mother's hip replacement. Blah blah blah. You didn't actually think they remembered all that, do you?
Circling back to the ERP; many businesses start, by looking for a financial system that also does the operations and sales stuff. The problem is that the operations and sales modules were probably added later, as an afterthought. It's possible that it will handle the needs of your business, but it is questionable. Be cautious.
Where To Start
Start with the problem. "What is my problem?" If your problem is that your current system is unable to handle your complex accounting, sure, look at an ERP. If your problem is bad data coming from the shop floor, you should start your search with an MRP or perhaps an ERP, designed for your industry. If your problem is sales, look for a good CRM. Some of the best systems are not all in one package, so be open to the possibility of multiple. Integrations are often seamless and working in multiple systems might not be so bad. Consider all of your options, along with the pros and cons of each.
For most businesses, the implementation of major systems is a two-year process. One year to select the system and another year to implement. Trying to shortcut this process can end in disaster. I know a handful of companies that got halfway through an implementation, only to discover that their new system won't work for them. Those stories end in lost time and money, or a lawsuit… and lost time and money anyway. Plan to do it right.
Some companies ask their outsourced accounting firm for advice. My advice is to not automatically follow their advice. Your accounting firm is likely a reseller of a specific ERP. Instead of helping you find the best fit, they may sell you how the software that they sell is a good fit. Advice, from someone who has a horse in the race, should be taken with a grain of salt.
Google Is Your Friend
Now that you know your problem, ask Google for advice. You will probably have to go deep into the search results, as the entire first page may be ads, but ads can be helpful too. Part of this process is discovering what is out there. As time goes on, you will start to narrow in on what you need and then you can start asking questions of the software manufacturers. They will offer a demo and you will be wise to take them up on that.
Make sure to include all of the key players in your organization, to ensure that everyone's needs are met, and questions are answered. Create lists and check things off as you get closer to making a choice. Don't forget to ask about the implementation process, integration possibilities, total cost of ownership, licensing terms, training and everything that your key players brought up.
I only have so much room here, so I'll leave you with this. Choosing an enterprise software is a major decision, that will impact your entire organization. Accept that it's going to be a lot of work and insist on being sure. But, at some point, you have to jump.